ADELAIDE'S SERVICED APARTMENT STYLE HOTEL
Miller Apartments Adelaide is an award winning property consisting of one, two and three bedroom fully self-contained apartments and is superbly located in the heart of the city. Friendly, impeccable service is coupled with the highest standards of cleanliness & hygiene, spacious, contemporary apartments to create a pleasurable and satisfying stay.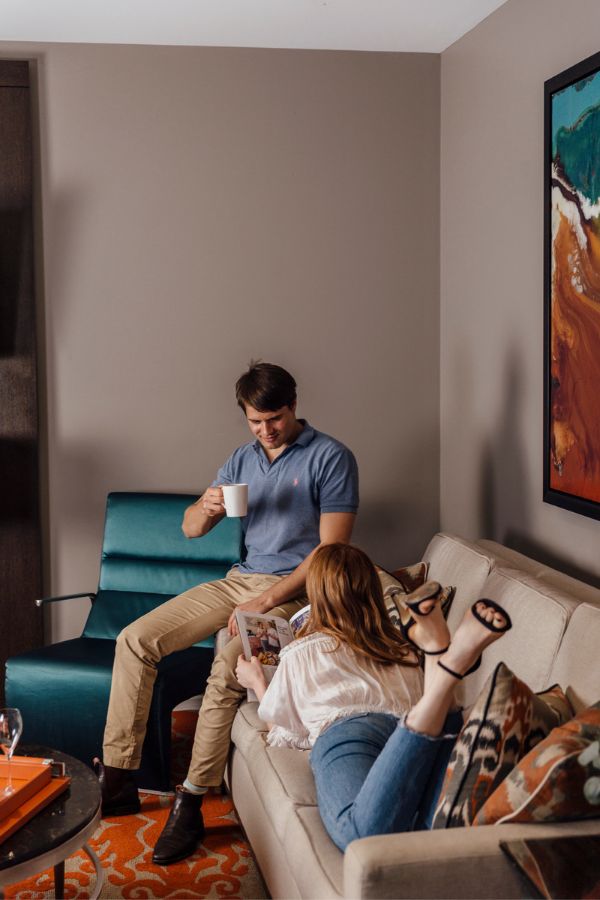 The location of Miller apartments was perfect for our three day stay and first visit to Adelaide. We were able to visit central attractions on foot and enjoyed the 'on our doorstep' proximity of Rundle Mall.
We stayed in an Executive Apartment on the fifth floor, which had a small balcony for fresh hair. The bedroom was small but had a great bed. Separate lounge and kitchenette were great and the washer/dryer was very useful. We only had one night but would be great for long stays. excellent location to shopping centre, bars, restaurants and car hire garages.
We had a wonderful weekend away taking up two rooms at Miller Apartments. We were welcomed by very friendly staff and when we opened the doors to our rooms, lights, camera, action - so welcoming and homely. We had all the amenities we wanted, full kitchen, laundry facilities and a very comfy bed. Loved the location to be able to walk to all the fantastic cafes and restaurants, Adelaide Oval and Rundle Mall. Would highly recommend staying at Miller Apartments Adelaide.
I was last in this building in the 80's when it was Miller Anderson's store. I was paying off a layby and was reminded of this when I walked downstairs next to the classic passenger lift. Great to see a grand old building revived into a gorgeous set of apartments. I had a second floor single bedroom apartment, self contained with access to the original window balcony. Hidden in a cupboard is a mini laundry and the kitchen is self contained. Bed was comfortable. Staff are welcoming and the location is convenient to CBD and public transport hubs.
We stayed at Millers on Saturday night to attend an event in the city and it was the perfect stay. The kids loved being in the bright lights of the city, loved having their own "big bed" and with their own little bathroom. It was safe for a 1 year old to roam around with no fear of her breaking something or hurting herself. Staff are super helpful and friendly. It is the perfect spot for a city event and the car parking was a fantastic bonus as we had prams and travel cot. Would highly recommend and stay here again.
A real gem right in the middle of the city. A very comfortable and stylish apartment and so reasonable. Excellent assistance from the staff - could not have been more helpful
Beautiful rooms. Spacious and very clean. Staff were very friendly. Centrally located and close to all the best sights of Adelaide. Highly recommend. Easy access to car park onsite. Would definitely stay here again but for a longer period of time.
Great location if you wish to be literally a stones throw from the main shopping precinct of Rundle Mall. The front desk staff are all helpful and friendly and the rooms nicely appointed. We had a room on the Executive Floor with an outside open aired balcony and I would highly recommend this option. It is a nice place to sit and get fresh air and the view is limited but nice. Free coffee is available from a coffee machine on this floor too. Lots of dining options and nice walks are close by.
Stayed in a two bedroom, two bathroom apartment. Fantastic location. No outside noise heard at night (stayed over Friday and Saturday night). Very clean and spacious. bed very comfortable. Towels big and soft. Staff very friendly, onsite car parking too. Will definitely stay again.
he accommodation was perfect for a quick getaway with the family. Staff were fantastic, we had undercover parking available, the room was exceptional and the location gives it a big thumbs up from me and my family and we will be definitely staying again.
Luxury Adelaide Accommodation
The award winning Miller Apartments Adelaide provides spacious, clean, secure and contemporary Adelaide accommodation in one bedroom, two bedroom and three bedroom fully self-contained apartments and is superbly located in the heart of the city. Our brand new beds, meticulously clean and disinfected, open plan living, full kitchen, balconies and laundry facilities make our apartments the perfect choice. Book direct with the confidence of flexible cancellation terms.
Perfect Base for Exploring
Location & Find Us
Miller Apartments Adelaide is a perfect base for exploring South Australia's world renowned attractions such as; The Barossa Valley Wine Region, Kangaroo Island, McLaren Vale, Flinders Ranges and the picturesque Adelaide Hills.